A lot of foreigners visit India every year. But the diversity and geographical vastness of India may make it difficult for anyone to travel to all of its parts. So, here we get you a detailed list of 20 Places Every Foreigner Should Visit while Traveling in India. The list covers states from all parts, North, South, East and West of India.
1. Delhi
Best Places – India Gate, Hauz Khas, Akshardham Temple
Delhi, being a cultural melting-pot, offers a variety of getaway options covering cultural and heritage sites, wildlife and adventure turfs and luxurious spells. It is home to major monuments of historical importance, parliamentary institutions, embassies, food joints, markets, malls, etc.
2. Kashmir
Best Places – Srinagar, Jammu, Leh, Hind Kush
The 'Heaven-on-Earth' or Kashmir, is referred to as India's pristine crown. Its beauty is unmatched to any foreign location, that may be. The lush-green valleys, snow-covered mountain peaks, clean air and the Dal Lake, the main attraction for tourists from all corners of the earth. Moreover, the people are extremely hospitable and would surely offer you Kashmiri delicacies. It is also a shopping hotspot for rich Pashmina work, like, shawls, stoles, scarves, phirans, etc.
3. Rajasthan
Best Places – Jaipur, Udaipur, Bikaner, Jaisalmer
Rajasthan, the epitome of Indian tradition and culture is a place every foreigner must visit in order to feel Indian-ness in a wholesome way. The Royal and Pink city of Jaipur is famous for Amer Fort, City Palace, Hawa Mahal, Albert Hall Museum and much more. Fancy palaces, colorful markets, Jaipur is a city that you can never get enough of. You would always want to make more and more trips to this city. The royal palaces, forts, traditional markets, museums make great ingredients for an amazing getaway.
4. Amritsar
Best Places – Golden Temple, Bhrawan da Dhaba
Amritsar, the city of gold, is the metropolis of Sikh Heritage. The city has been named after the sacrosanct Harmandir Sahib pool, in the Golden Temple. It is a cultural and spiritual adventure in the North-Western part of India. The real essence of the Punjabi lifestyle is reflected in these Dhabas, which not only offer traditional Punjabi food but also the ambiance of the rural countryside.
5. Himachal Pradesh
Best Places– Shimla, Manali, Bir
This hill-station is known for cool pine trees that cover the hills and many colonial enamors. Peaceful ambiance, pleasant climate, snowy hills make just the holiday destination. Woodville Palace and Radisson hotel are popular venues to check out. Summer months are an ideal time to plan a trip here.
6. Banaras, Uttar Pradesh
Best Places – Kashi Vishwanath Temple, Ganga Ghats, and aarti.
Varanasi or Banaras is the spiritual and religious capital of Hinduism. The city hosts the pious Ganga river and the Kashi Vishwanath Temple, both of which are of great importance of the Hindu faith.
7. Mumbai
Best Places – Marine Drive, Juhu Beach, Gateway of India, Film City
Mumbai or Bombay, as it was earlier called, is the financial capital of India. It domesticates the Indian movie industry, Bollywood and most of the celebrities like Amitabh Bachchan, Shah Rukh Khan lives here. It is famous for the beach side and Marine Drive, Elephanta Caves, Siddhivinayak Temple and the nearby shrine of Shirdi.
10. Sikkim
 Best Places – Buddhist monasteries, glaciers.
This state might be small in geographical size, but it holds immense importance. This is because it is home to the highest peak in India, that is Kanchenjunga (8,586 m). It is also famous for glaciers, alpine meadows, flora and fauna, Buddhist monasteries, etc. It is one unique experience, one would definitely regret missing.
9. Arunachal Pradesh
Best Places – Tezu, Roing
This is the most north-eastern and the greenest of all states of India. It has 26 indigenous tribes, which possess great tradition and culture.This extreme geographical direction makes it also blessed with beauty in abundance. It is home to snow-covered mountains and also shares its border with Tibet.
10. Goa
Best Places – Beaches, Churches, shacks.
The party capital of India, Goa, is the city of beaches and churches. It is the home-ground for all parties and destination weddings, with the backdrop of beaches, palm trees and the peace and calm of the Arabian Sea water. Park Hyatt Goa, Taj, Leela, and Radisson Resorts are the best options to look out for.
11. Kolkata
Best Places – Howrah Bridge, Kali Temple, Victoria Memorial.
Kolkata is India's second biggest and one of the most happening cities of India. One must visit Kolkata at least once in a lifetime to explore its delicious foods, colonial architecture, art galleries and cultural fests. Many festivals like the Durga Puja are celebrated with much pomp and grandeur, a sight one must not miss.
12. Gujarat
Best Places – Ahmedabad, Vadodara.
One of the most colorful and lively states of India.The Gujaratis are known for their food- sweet and spicy, their handicrafts and heirlooms, festivals like Navratri and music. The famous Asiatic Lions can been seen at the Gir National Park. Moreover, it has been home to many great personalities of India like Mahatma Gandhi and the most recent, PM Narendra Modi.
13. Hyderabad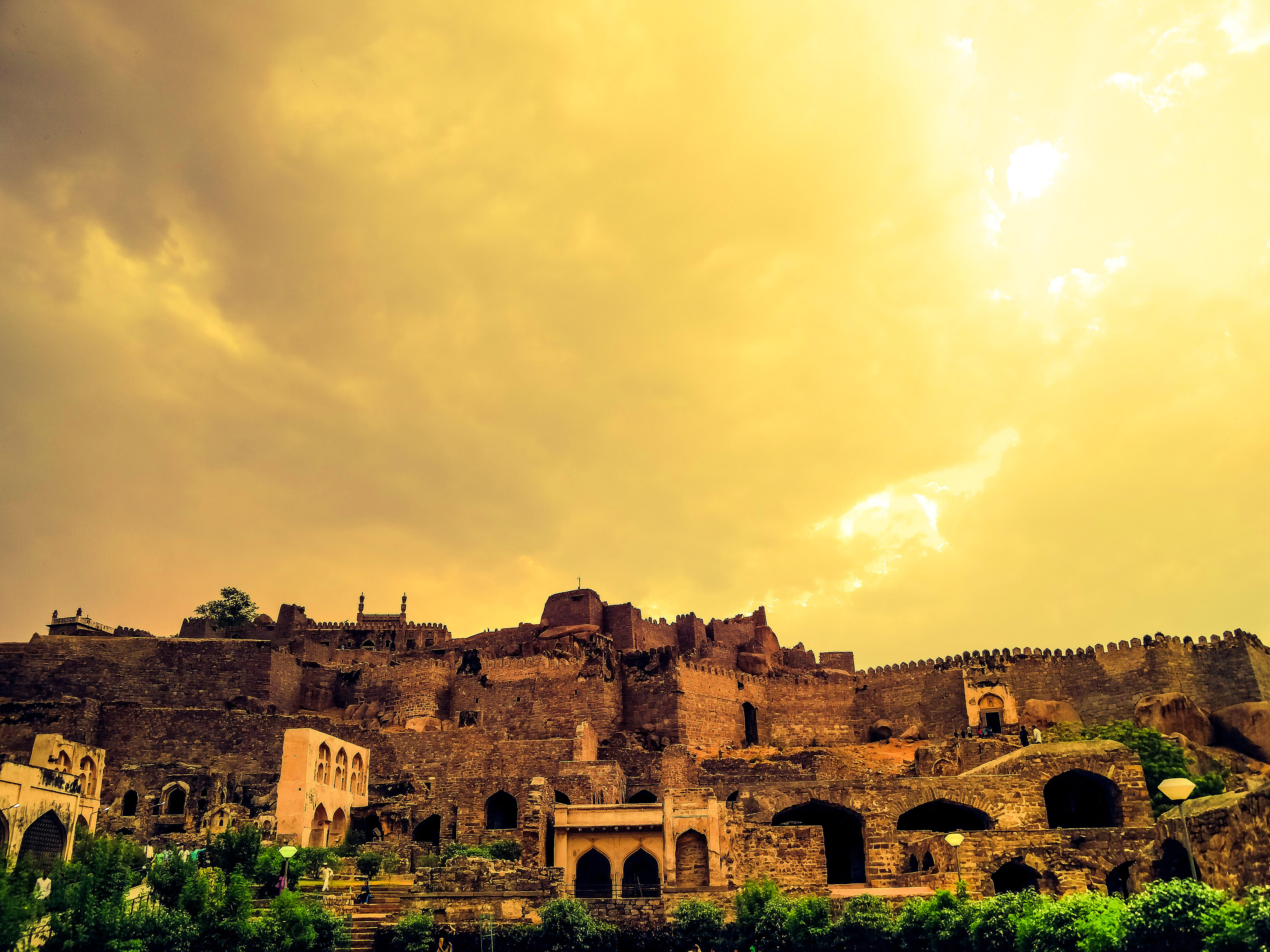 Best Places –  Taj Falaknuma Palace and Chowmahalla Palace
Hyderabad is popularly known as the city of Nizams and Pearls. It has famous places like Taj Falaknuma Palace and Chowmahalla Palace, The city of Pearls, etc. which have witnessed the most royal, dreamy and romantic, and high-profile weddings like that of Salman Khan's sister, Arpita's wedding to Aayush Sharma. The city is also famous for the Hyderabadi- Biryani, which is the heavenly food that soothes your taste buds.
14. Andaman Islands
Best Places – Ross Islands, Nicobar Islands
The coconut palms, seashore of the Ross and Havelock Islands are the perks that a vacation to the Andaman Islands offers.This heaven's abode is away from the hustle-bustle of the metropolitan cities.
15. Ooty
Best Places – Rose Garden, Botanical Garden
Ooty or Udhagamandalam is a hill- station in Tamil Nadu. It is known for its picturesque and mural-like landscapes, which capture your heart completely. Ooty Lake and Doddabetta Mountain are famous tourist attractions. A trip to Ooty once will make you want to visit the place again and again.
16. Kerala
Known For – backwaters, seafood, toddy.
The 'God's Own Country', Kerala, offers a perfect beach hot spot for close-to-nature outings. Places like Varkala and Kovalam, tea gardens of Munnar, are an absolute favorite of tourists.
17. Agra
Best Places – Taj Mahal, Fatehpur Sikri, Buland Darwaza
Agra has an extremely rich historical background. In The Mahabharata, Agra is referred to as Agravana. It is also referred to as Arya Griha or the abode of the  Aryans. The first person who referred Agra by its modern name was Ptolemy. Agra is a living example of Mughal architecture par excellence. All major monuments like the epitome of love- Taj Mahal, Fatehpur Sikri and the majestic Red Fort, have been created during the Mughal empire.
18. Rishikesh
Best Places – Lakshman Jhula, Triveni Ghat, Neergang Falls.
This Edenic Paradise by the River Ganges has enormous leisure options to offer. Primarily known as the apex of Hindu pilgrimage, it has rapidly become the adventure hotspot, offering trekking, camping, rappelling, and bungee-jumping. It holds out to your religious and spiritual faculties through various temples like the Neelkanth Mahadev Temple and yoga sessions at the Parmarth Niketan. So, it has something for all members of your family and will surely become a memorable holiday.
19. Mathura – Vrindavan
Best Places – Iskcon Temple, Govardhan Hill, Janam Bhoomi
This holy city of Hinduism, Mathura, is the birthplace and home of Lord Krishna. It is famous for Krishna's tales as a naughty child and later as a lover of Radha. Vrindavan, the city of Temples, is around 15 km from Mathura. Both these places are known for their grand and pompous Holi and Janmashtami celebrations. The famous places to visit are Krishna Janam-Bhoomi Temple and complex, Govardhan Hill, Radha Kund, Barsana Shri Radha Rani Temple and much more. It is also home to the oldest sweet shops in India, which flourish till date.
20. Assam
Best Places – Guwahati, Kaziranga.
The Indian state of Assam is known for its wildlife, tea plantations, temples, and silk – bazaars. The beautiful landscapes of the city will surely entice your heart and you would want to prolong your stay.
Contributor: Priysha Sharma