Top 10 Hostels for Travelers in Delhi
Are you bored of your 9 to 5 lives? Are you in dire need of a vacation? Are you planning to go on a trip just because you have that craving to travel? People like me (I love to travel btw) often feel like this. Jobs do not suit us. Travelling is what suits us. Travelling defines these kinds of people. For people like you all, I bring forward this article in which I am going to tell you about the hostels in Delhi which are perfect for a low budget traveller. Hotels could be really expensive but hostels; these are great places to stay for you-hippies. Here is a list of the Top 10 Hostels for Travelers in Delhi,
1. The Madpackers hostels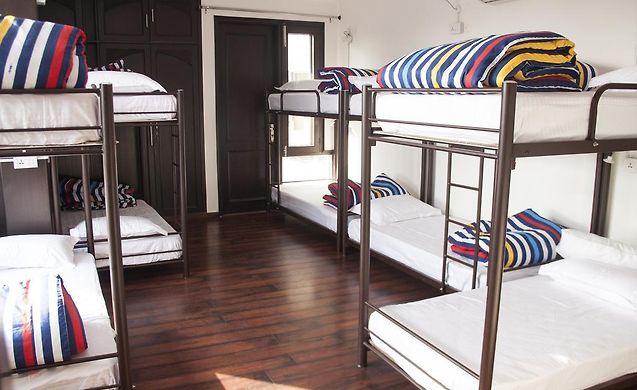 First, comes this place where you may spend your days while on the trip. It is a great place to interact with new people. There could be moments here which you may never forget. It is really clean and cosy. Along with the bunk beds, you get to have a roof top garden.
Facilities provided: wifi, free breakfast, roof top garden, bunk beds, clean, comfortable, a fully stocked kitchen with refrigerator and microwave, and a washing machine.
More info: well connected to the yellow line of Delhi metro, delicious meals, sun terrace, and a range of convenience services.
Price: INR 599 per night.
Address: S-39 A, 3rd Floor, South Block, Panchsheel park.
2. Jugaad Hostels
You can have an amazing time here at very low prices. Located in the urban village of south Delhi, you get the experience of a local. And the biggest advantage is that you do not have to bargain with those travel agent people. It is ideal for solo travellers, and students. This hostel offers well-appointed dormitories and private rooms with a funky décor which includes make-shift beds and simple wooden furniture.
Facilities provided: basic amenities, wifi, breakfast, awesome décor, friendly environment, large common room and terrace with beanbags to relax.
More info: it is located in close proximity to the RK Puram market and is only 1km away from Hauz Khas.
Price: INR 499 per night onwards in dorms (10 person sharing basis); and INR 1100 onwards for private rooms.
Address: F 128, 4th Floor, Jhandu Mansion, Mohammadpur, Sector 1, RK Puram.
3. The Hosteller
Looking for a bit silent and peaceful stay? They also offer various facilities to their customers. You will have a relaxing stay here. Along with Comfortable beds, clean bathrooms, free Wi-Fi and air-conditioned rooms, they offer you much more on such fewer prices.
Facilities provided: fully equipped community kitchen, common room with huge projected screen, a PlayStation with insane games, a mini library for some sound reading, paid laundry. They also organise lots of events like "Masterchef Hosteller", "Pongola"(beer pong + tambola), "Bookmark: People Hurt. Books Heal."
More info: Located within walking distance from Saket Metro station on the Yellow Line, it is close enough to most of the site-seeing places in Delhi but far enough to escape from the noise of the city.
Price: INR 399 per night per bed for a 10 seater dormitory.
Address: 123/1, Saidulajab, Saket.
4. Joey's Hostel
This place will give you a homely feeling so that you do not miss the real one. It could be called "Home away from Home". Just as others, they also offer different facilities like free wifi and breakfast. There are various types of accommodations from which one can choose from 4 bed, 6 bed, 8 bed and 10-bed dorms – all of which are hygienic and have a common kitchenette and a lounge.
Facilities provided: Complimentary breakfast, heritage walks, food walks, sightseeing excursions and rooftop barbecues.
More info: it is located just 150 m away from Laxmi Nagar Metro Station (Blue Line).
Price: INR 550 per night for an 8-bed dorm
Address: 1/49 Lalita Park, Laxmi Nagar, Main Vikas Marg.
5. Backpacker Panda
Image source
This place is located off the Paharganj market to provide you a cozy and a peaceful environment. But at the same time, it is very near to the main bazaar. Thus, you may go shopping if you want. Also, it is near to many beautiful places which you may take a tour of.
Facilities provided: neat dorms, clean mattresses, a kitchenette, Wi-Fi and helpful staff.
More info: it is located close to Ramkrishna Marg Metro Station on Blue Line.
Price: INR 449 for AC 6 bed mixed dorm
Address: 22/1, Main bazar Road, Pahar Ganj
6. Zostel
It is among the best budget hostels in Delhi for backpackers. They have different types of accommodations and some great common rooms. Being the first chain of modern backpacker hostels in India, they have a friendly staff that can help you a lot in your travel plans. It is an immensely nice place for students and solo travellers.
Facilities provided: vibrant and friendly common room, dormitories and private rooms, free WiFi, a kitchen and friendly staff, air-conditioners.
More info: it is located opposite to the New Delhi Railway Station.
Price: INR 499 per night onwards.
Address: 5, Ara Kashan Road, Opposite New Delhi Railway Station.
7. Stops Hostel
It is a chain of hostels that have many of them at various places. They recently moved to Delhi and have become an extremely successful one in such a short time. They provide a homely atmosphere to their visitors and many other facilities along with free evening tea. Not only this, but the staffs are really polite and English speaking guides are also available.
Facilities provided: free evening tea and activities such as games and movies, English speaking guides, friendly staff etc.
More info: Located right on the cusp of Old Delhi and New Delhi, there are three metro stations in proximity and 'tuk-tuks' are at a whistle's call. Moreover, sites like Red Fort, Jama Masjid and Chandni Chowk are right within walking distance.
Price: INR 499 per night per bed for a 6-bed mixed dorm.
Address: 4/23 B, Asaf Ali Road, Darya Ganj.
8. BoriBista
It is India's first boutique hostels. Best suited for solo-travellers, it is known for the 24X7 facilities. They offer a really wide variety of rooms from dorms on a sharing basis to superior Queen Rooms.
Facilities provided: basic amenities, packed lunches, barbecue, and a special diet menu, library and rooftop sun terrace.
More info: Boribista is only a stone's throw away from the main historical and cultural attractions and is very well connected with public transport such as metro, taxis etc.
Price: INR 680 per night onwards for dormitory rooms; and INR 1900 per night onwards for Superior Queen Room.
Address: H-54, South Extension-1.
9. Smyle Inn
It is a really old family run hostel running since 1996. Due to its location, it is the first choice of travellers visiting around. It could be called "value for money" really easily. They have a 24-hour front and travel desk that can help you with sightseeing in Delhi as well as making onward travel plans.
Facilities provided: Free Breakfast and High speed Wi-Fi, computers for Internet, Delhi Map and Free Travel information, Booking services for sightseeing tours, flight, train & bus at best prices, 24 hr Airport / Station pickup and drop (at very reasonable prices),  Taxi on call, Power back up, Laundry service at reasonable rates.
More info: it is located within walking distance to Connaught Place, New Delhi Railway Station, Airport Express and two Metro Stations.
Price: INR 540 for Superior 8 bed dorms.
Address: 916, Gali Chandi Wali, Main Bazaar, Pahar Ganj.
10. HOG Backpackers
It is also a wonderful place to stay for solo-travellers. This will ensure that you have an unforgettable trip here. The environment is really creative and homely. You won't miss home while you are here.
Facilities provided: free breakfast and wifi, parking, Luggage Storage, Fax Service, 24 Hour Reception Tours/Travel Desk, Currency Exchange, ATM etc.
More info: Lotus temple is just 5 minute walking distance form here. Also, walk for 10 minutes and put your feet at the GK-1 M & N block market for shopping and pub crawling,
Prices: INR 269 for a basic 8 bed mixed dorm.
Address: 19, Greater Kailash 1 Road, Hemkunt Colony, Greater Kailash.
Delhi is an amazing place to roam around explore for the travellers. Now that you know about all the good hostels in here, have fun staying there. Share your stories here in the comments below.