Bollywood Inspired Foreign Vacations
We all dream to go to a foreign vacation someday, don't we? Every time we see our favourite actor or actress in a beautiful foreign location our heart wants to go to that location. But at this age, we are spoilt for choices! Every movie nowadays comes with a new location that we've never heard of, or with an old location in a new light! So to put all your worries and confusion to rest, we have curated a list of Bollywood inspired foreign vacations, that will surely make you pack your bags immediately!
1. Milo Zindagi Se in Spain!
I'm sure you've heard of Zindagi Na Milegi Dobaara, right? It's our favourite travel movie! 3 friends embark on a trip of their lives, living it up in various exotic locations in Europe! Now, for this list, our favourite pick is Spain. It is a famous place for any type of holiday- be it with friends, family, or your special someone. The surreal Spanish landscape is truly unique and beautiful and is the perfect spot for your dream holiday!
While you're here, you can: 
Try skydiving at the Skydive Empuriabrava, in Costa Brava.
Check out the San Fermin Festival – The Pamplona Bull Run, if you're a real adventure junkie!
Do some deep-sea diving.
Enjoy the La Tomatina festival.
Visit locations like Alájar and Ronda, made famous by the movie.
Plan that trip during: It is advisable to visit Spain during the cooler months, rather than in the summer since it can get really hot. But basically, you should make your plan according to the festivals that go on there- as there are festivals happening in every month.
2. Dilwalo Ki Iceland!
You must be a fan of Dilwale. Although not for being a great movie, most definitely for the most beautiful locales! Untouched by throngs of people, Iceland is still a place where not too many people venture out too. And if Shah Rukh Khan and Kajol's romance in the song Gerua inspired you, then most definitely visit this amazing place for a breath of fresh air!
While you're here, check out: Þingvellir, Jökulsárlón, Gullfoss, Skógafoss, Geysir etc.
Plan that trip during: February, March, September, and October.
3. Bang Bang in Greece!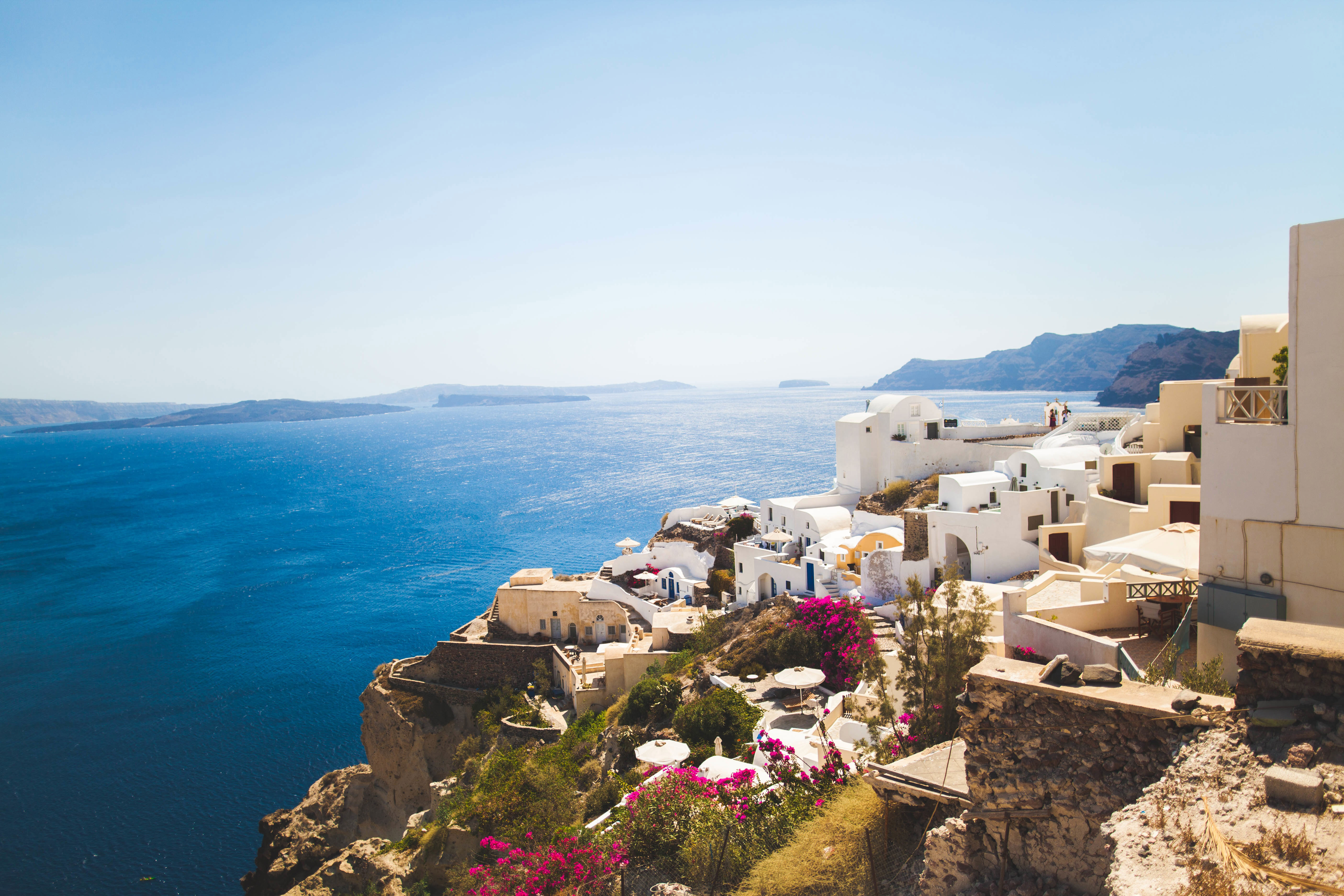 Bang Bang was a movie that made Greece appear to be an idyllic and extremely stunning. The vast beaches, alluring sunsets, and the quaint villages make Greece a paradise for romantics! A stroll on the caldera edges of Santorini admiring the sublime beauty is all you need to have the most beautiful day!
While you're here, you can: 
Try out unique adventure sports like flyboarding, or go for a dip in the turquoise waters of the Meditteranean.
Take a walk on the quaint streets of Santorini.
Try out the amazing food and wine!
Plan that trip during: Mid-April to mid-June & September to mid-October.
4. Do some Tamasha in Corsica!
Tamasha is a movie we all love, right? I mean, honestly, Ranbir Kapoor and Deepika Padukone gave some phenomenal performances! The movie brought to light the sun-kissed Mediterranean beaches of Corsica and set the ultimate travel goals for us! If you're a romantic soul, then the white sandy beaches, picturesque locales, and lively hangout spots will surely make you want to visit this amazing place at least once!
While you're here, you can: 
Visit the lively streets of  Bastia to relive the beauty of the song Matargashti.
Go on a road trip from Calvi to Ajaccio.
Soak in the beauty of Aiguilles de Bavella, Zonza.
Hike to Lake Melo, going through rocky and riverine paths.
Take a cruise to Scandola Reserve, Galéria.
Plan that trip during: If you're interested to hit the beach from the moment you reach Corsica, you should visit during May to September. The heat is pleasant and the water remains cool and is ideal for swimming. If swimming isn't a big deal for you, and you're more interested in the heritage sites, then you can visit after October, during the winter months.
5. Take your Dulhaniya to Europe!
Dilwale Dulhaniya Le Jaayenge was a movie we all grew up watching. Most of the movie revolves around the Euro Trip that both Kajol and Shah Rukh took- on which they fell in love! The majestic Swiss Alps, the beautiful city of London, all are etched in the movie, and in our hearts, forever. So what better way to relive the memories than going on a trip to all those places visited by Raj and Simran?
While you're here, you can: 
While in London, visit Trafalgar Square and King's Cross Railway Station. Our tryst with trains and romance was born from there only!
In Switzerland, follow Raj and Simran to St. Mauritius Church in Saanen to get your very own cow-bell souvenir.
Also in Switzerland, visit Jungfraujoch to enjoy the beauty of the ice-laden peaks.
Plan that trip during: London: March to May.
Switzerland: June to September.
So here were the Bollywood inspired foreign vacations that is a must for every Bolly-crazy fan out there! If you're a movie buff in need of the vacation, then these places will definitely inspire you to plan that trip! So what are you waiting for? Start packing!
Contributor: Archi Sengupta.